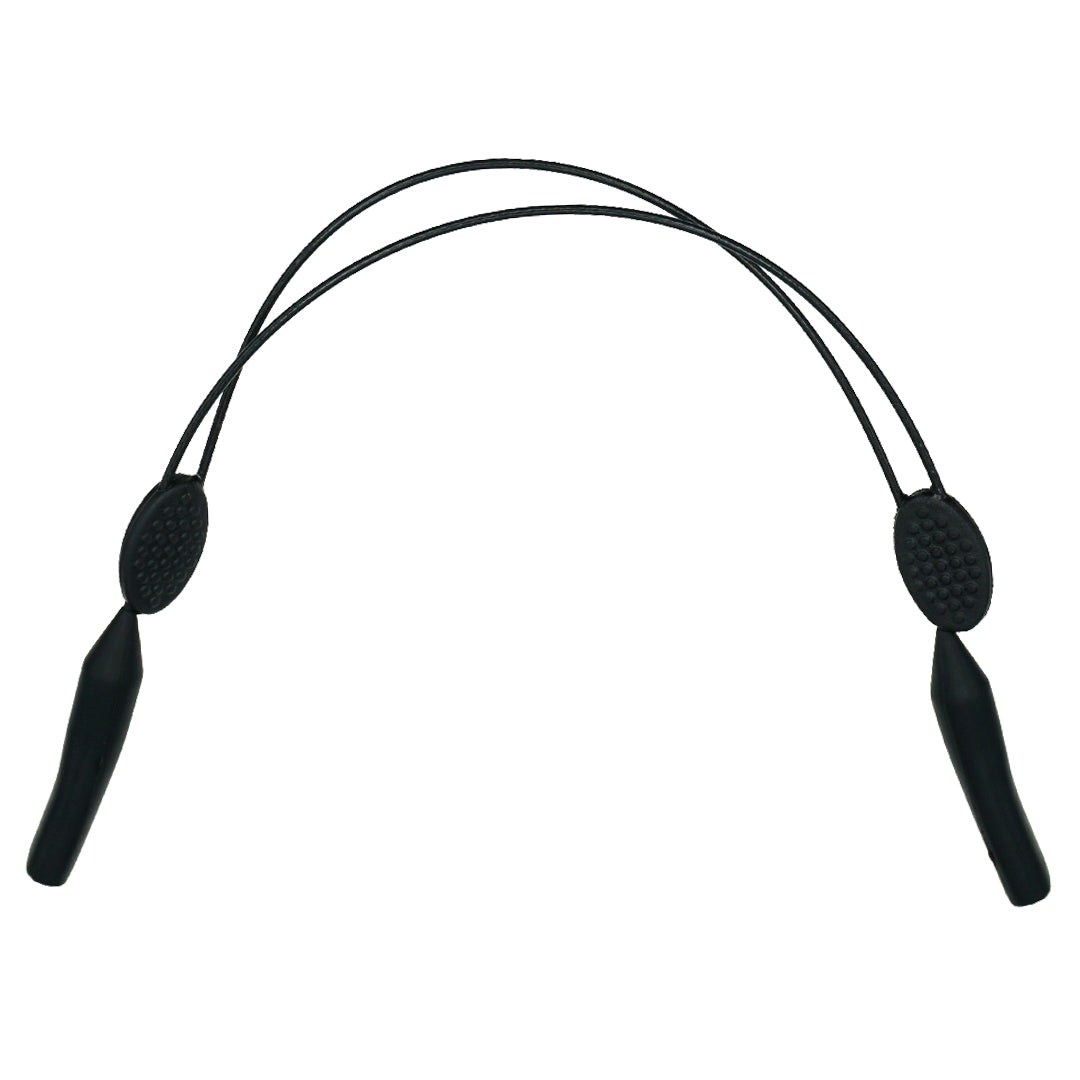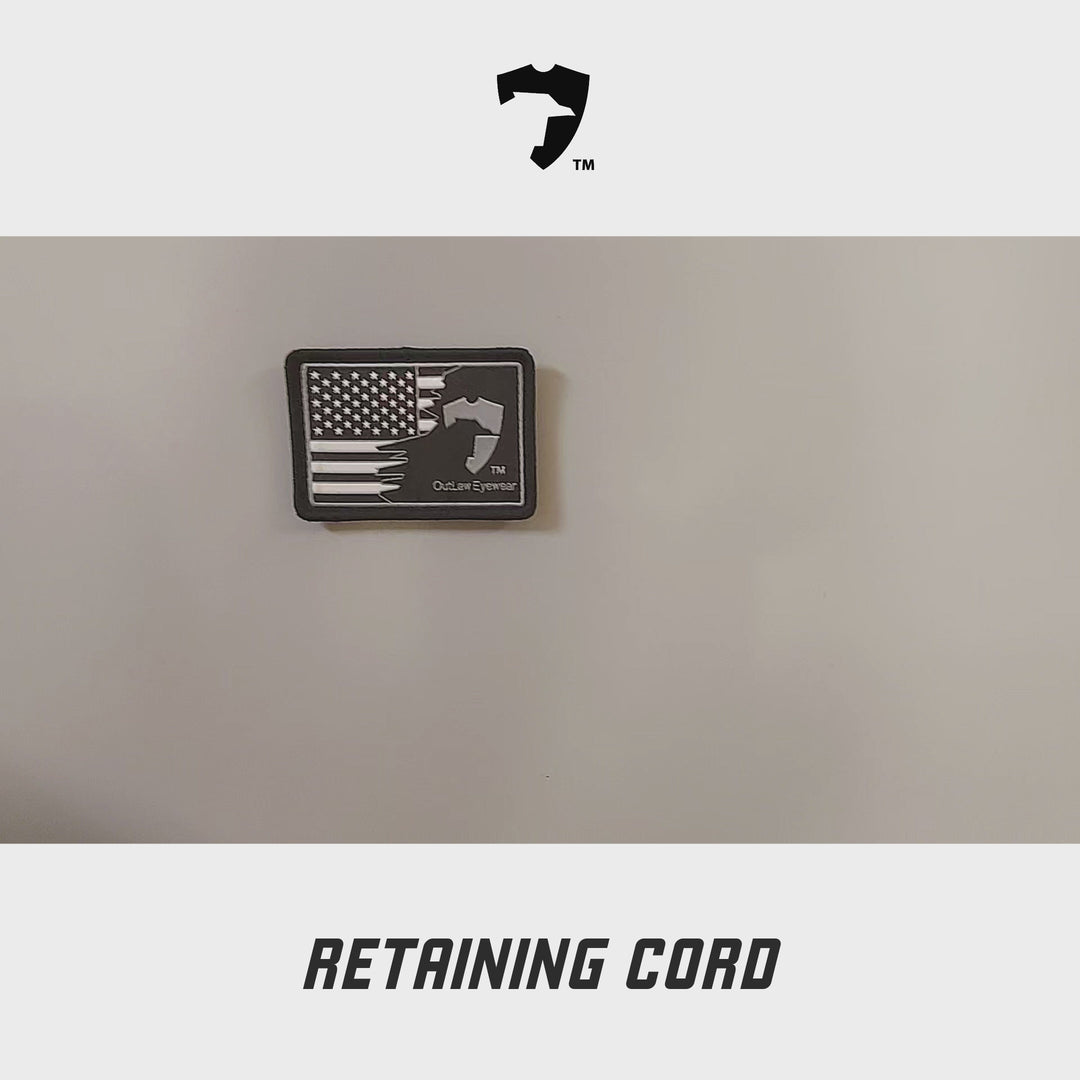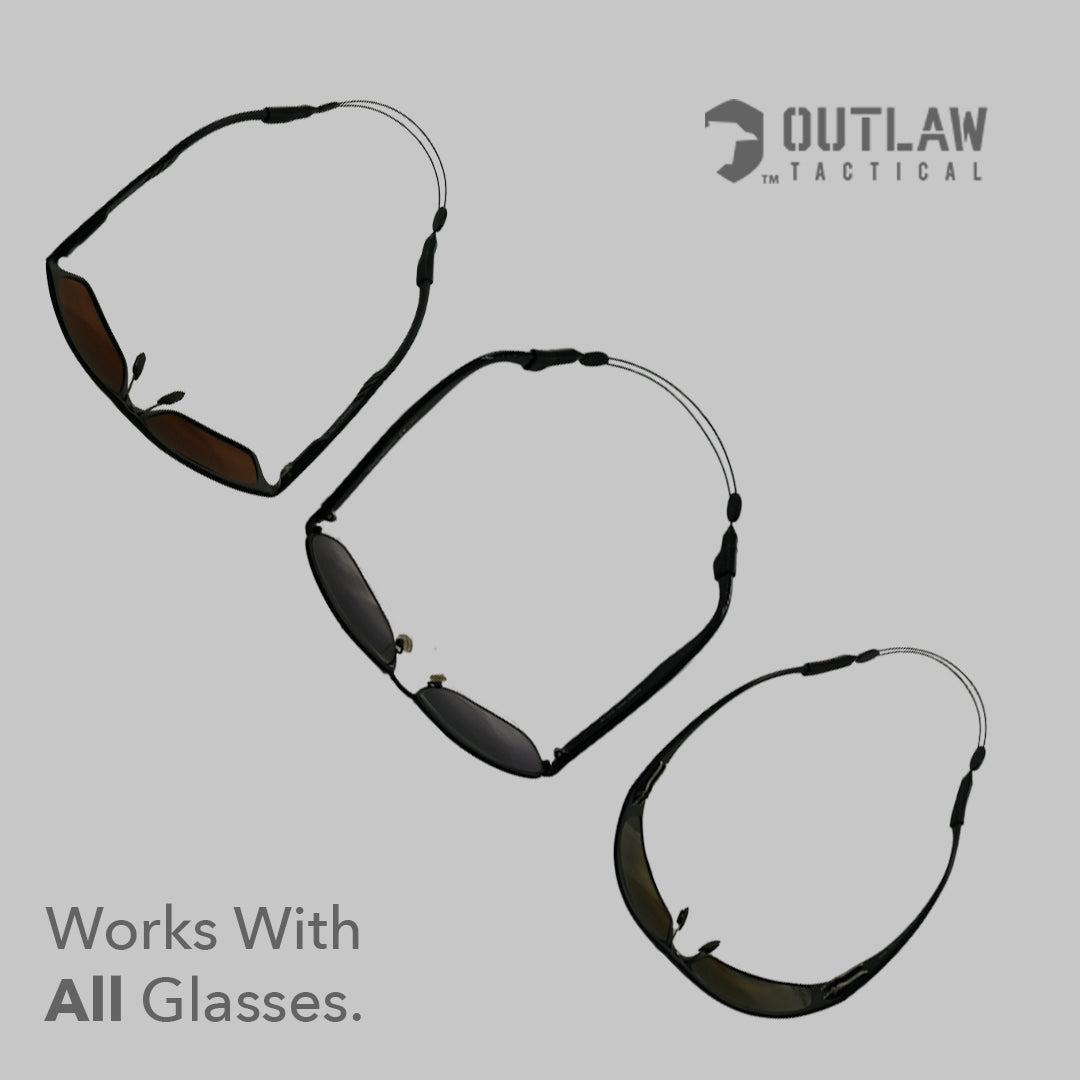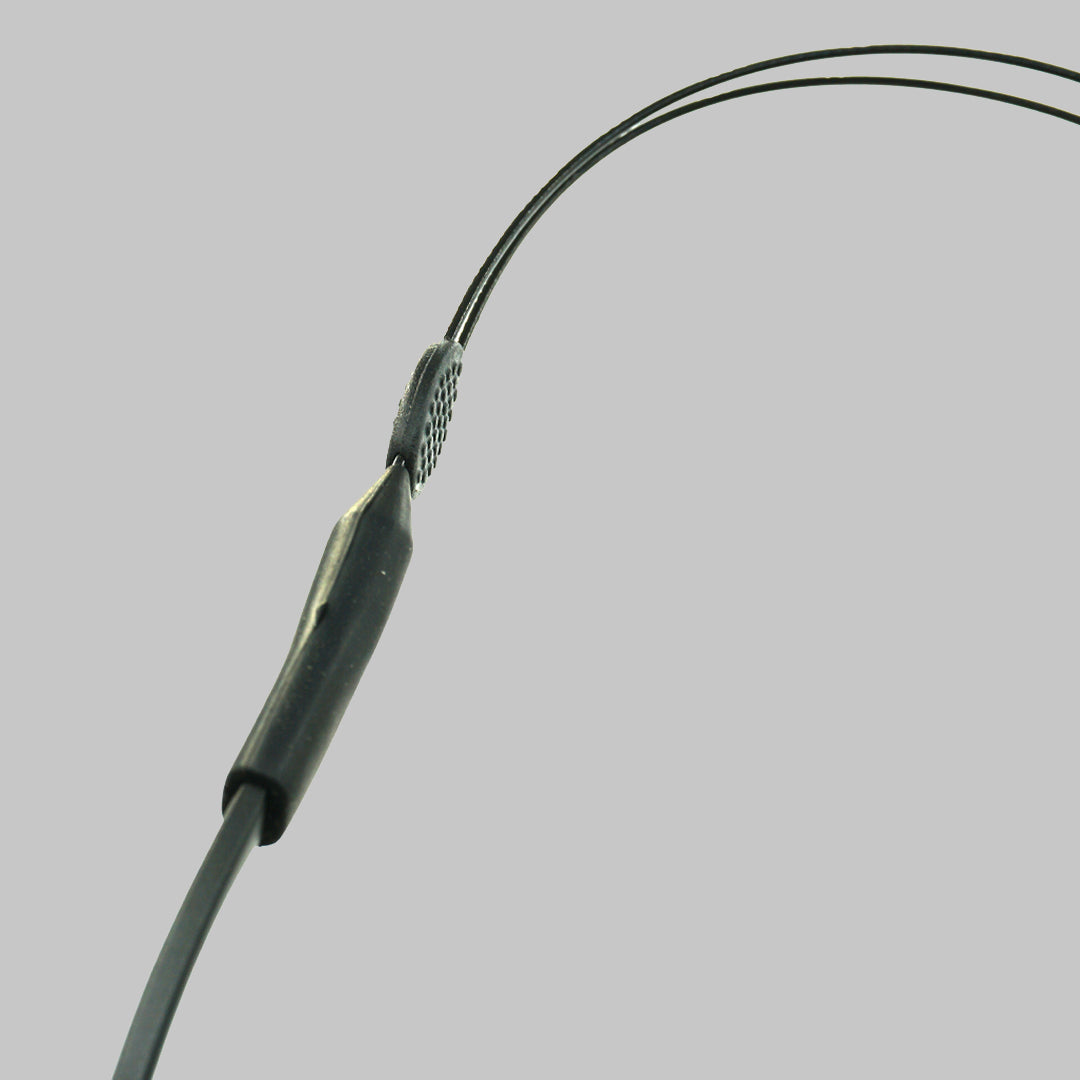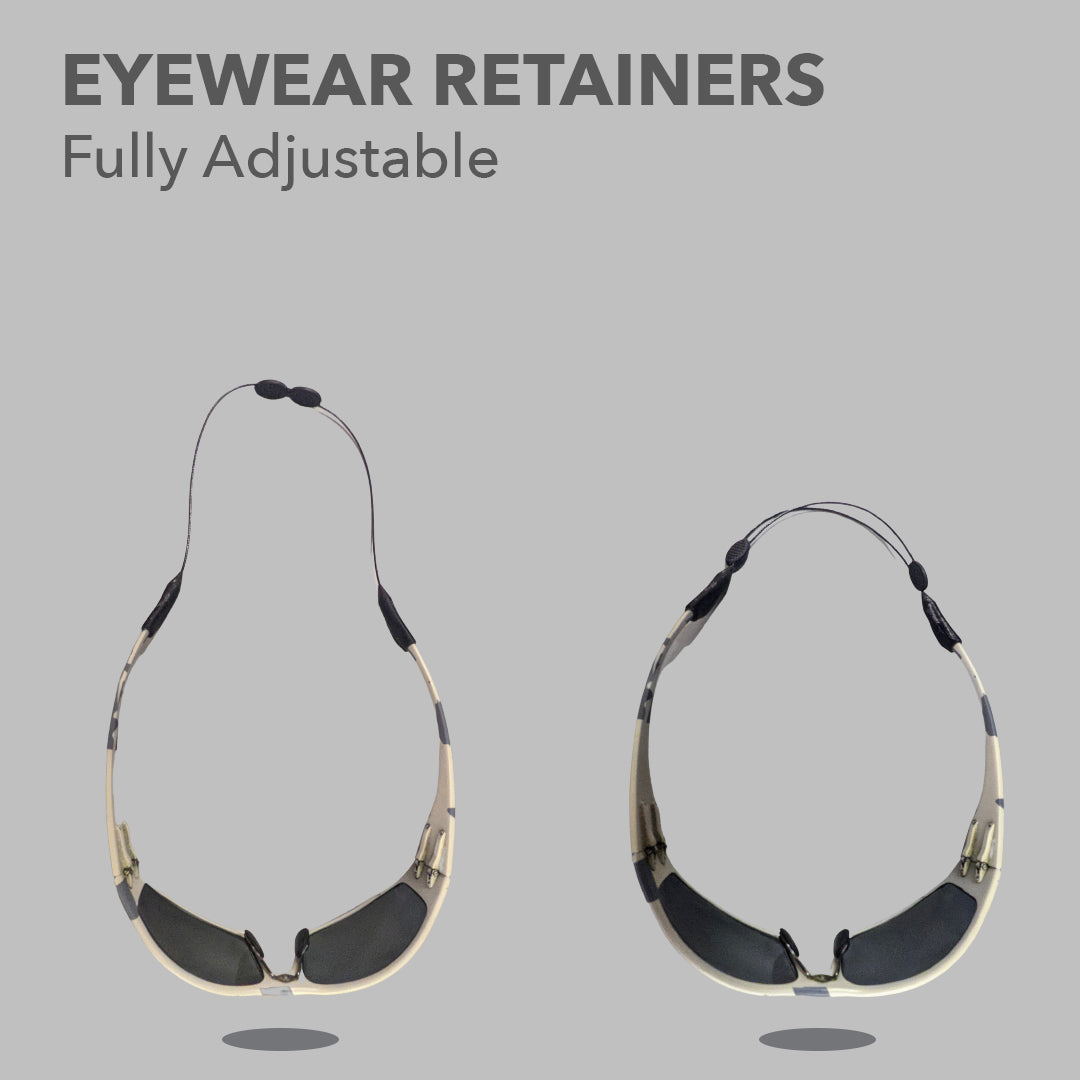 Tactical Glasses Retaining Cord
---
Regular price
$14.99
Sale price
$12.99
Save $2.00
/
In stock, ready to ship

Inventory on the way
Free domestic shipping on most orders!
FIT FOR SERVICE - Protect your eyewear effectively in active situations with OutLaw Eyewear's glasses strap. Our straps for glasses allow you to stay fully focused on the task at hand without the worry of losing your eyewear to the demanding conditions you thrive in.
SAFE AND SECURE - Our eyeglasses strap uses a rubber grip closure for a perfect tight fit and ultimate security. Can be worn tight for a 'locked-in' fit when helicopter, airplane, skydiving, or motorcycle riding. A looser fit is also available with the easily personalized high tension adjuster.
FOR DEMANDING ENVIRONMENTS - Be filled with confidence that your expensive eyewear will be secured with our sunglasses strap. Perfect for everyday adventures and uses like hiking, sports, running, hunting, tactical, skiing, water sports and more.
EXPERTLY CONSTRUCTED - Our eye glass strap combines the flexibility of rubber with the durability of metal. This sunglass strap offers a 'One Size Fits All' capability with full adjustability on both sides to help you keep track of your tactical, prescription or reading glasses.
WE'VE GOT YOUR SIX - This glasses cord is equipped with smooth sliding adjusters that stay put when needed for supreme safety from drops, but, if our sturdy eyeglass straps for men break under strenuous conditions, you're covered with a 2-year warranty.
Never lose your eyeglasses again with OutLaw Eyewear Strap For Glasses! As an industry-recognized leader in motorcycle sunglass design, sales, and distribution, OutLaw Eyewear yielded to the needs of our great nation and expanded the product line to include Eye Protection capabilities for the United States Military, DoD, and Police Departments. We take this responsibility extremely seriously to produce eyewear and equipment that's fit for service! One thing's for sure, our glasses holder strap certainly didn't miss the memo! Key benefits for our users...
ENJOY THE OUTDOORS, free from the worry of losing your expensive eyewear
STURDY FEEL, fully adjustable wire is made to thrive in the toughest conditions
PREMIUM COMFORT, constructed with all-day wearability in mind
WON'T SACRIFICE STYLE, a sleek perfectly matches high-end OutLaw Eyewear glasses models
WORKS WITH ALL GLASSES, secures safely onto tactical, prescription, reading, sunglasses and more
MADE BY VETTED PROS, only the highest manufacturing standards will do
Specifically engineered for the task of keeping your eyewear where it should be, our sunglass lanyards for men could be considered the most inexpensive insurance option for your high-performance shades! You can forget about that damaging feeling of watching your expensive eyewear bounce off of the tarmac, or even worse, sink down to be lost forever in the abyss. With this glasses lanyard's reliable construction it's less heartbreak when you lose yet another pair and more living life on the edge with full focus while out on the waves, flying down the trails or protecting our communities. OutLaw Eyewear Glasses Strap For Men, you'll be telling your friends where you got yours!
Warranty
Thank you for shopping with OutLaw Eyewear Inc. We are confident that we offer the finest sunglasses available today. Our Aluminum sunglasses are cranked out of the same aluminum alloys that motorcycle parts are made from.
If you have a question about our products, please email us at sales@outlaweyewear.com, or call us at (949) 427-1-SUN.
All OutLaw Eyewear Aluminum Sunglasses come with an automatic 2-year warranty against Manufacturer's Defects on the frame, and as of 4/11/2022, it is extendable to 10 years. Lenses are not covered by any warranty, but if you have the new 10 year warranty, standard lenses can be replaced for $39. If you do not have this warranty coverage, replacement lenses are available at a very reasonable cost. Lens problems rarely happen as we use thicker lenses than our competitors, but damage can occur.
For frame warranty service, we will repair or replace the frame at our option in a timely manner.
Damage due to sunscreen, alcohol, military use, war, acts of god, or disasters is not covered under the standard warranty. A separate warranty is available for military or industrial use.
If your sunglasses are out of warranty, please contact us anyway as we can often help. We do our best to support our loyal customers for life. A repair or trade-up will be available so you can use your sunglasses for as long as you like.
Often time we can send you a replacement part to take care of simple issues.
Please join the OutLaw Eyewear family today!