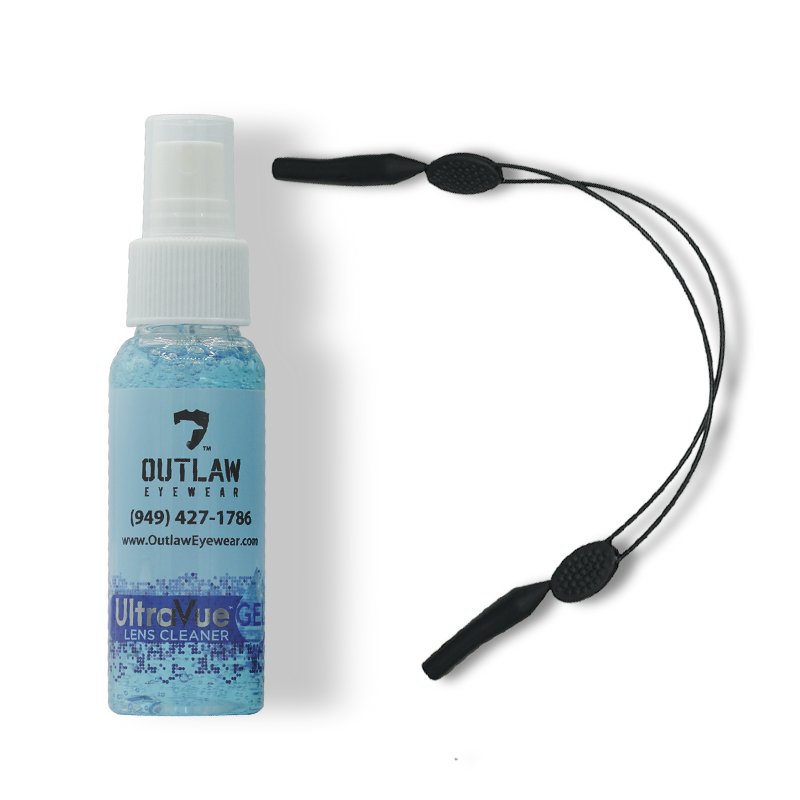 Tactical Lens Cleaning Gel & Glasses Retaining Cord Combo Kit
---
Regular price
$19.99
Sale price
$12.99
Save $7.00
/
In stock, ready to ship

Inventory on the way
Free domestic shipping on most orders!
OUTLAW EYEWEAR TACTICAL LENS CLEANING GEL
The Outlaw Eyewear Tactical lens cleaning gel is a next generation type of lens cleaner. It is safe for all Outlaw Eyewear products, as well as all other brands of sunglasses and prescrip optical glasses.
It is made to be safe and not strip off Anti-Fog and Anti-Reflective lens coatings.
Most cleaning sprays are a in liquid form that can be a little messy and you waste a lot of it as much of it misses the lenses. With our new gel cleaner, you get all of it on the lenses with no waste.
It is ideal to use this cleaning agent before you use the Outlaw Eyewear Anti-Fog treatment to give the maximum clarity and anti-fog protection no matter the environment you are in.
OUTLAW TACTICAL GLASSES RETAINING CORD
KEEP YOUR EYEWEAR IN PLACE
:
The Outlaw Tactical sunglass strap will fit securely around the ends of your sunglasses, and keep them on your face. It's inexpensive insurance for your expensive sunglasses. Recommend for anybody who uses their glasses in extreme conditions, including tactical, hunting, skydiving, fishing, and boating. Never lose a pair of sunglasses again.
PURPOSEFUL DESIGN: Designed to secure all Outlaw Eyewear sunglasses, and it also fits all similar Aluminum Sunglasses.
UNIVERSAL FIT: These glass straps will fit most all sunglass frames. One size fits all, making this glasses accessory perfect for both men and women. It is adjustable. If you trust the Outlaw Eyewear name, then you know what you are getting.
PERFECT FOR ALL OUTDOOR ACTIVITIES: Recommended for keeping glasses on your face in the Downdraft of a Helicopter, Skydiving, Boating, Fishing, Biking, Motorcycle riding with no helmet, and in any extreme situation.
ADJUSTABLE LENGTH: Ensured a snug fit around the head so that glasses do not come off in extreme wind or slide down your nose. The cord can be extended so that your glasses can be dangled around your neck when it is necessary to remove them.
Warranty
Thank you for shopping with OutLaw Eyewear Inc. We are confident that we offer the finest sunglasses available today. Our Aluminum sunglasses are cranked out of the same aluminum alloys that motorcycle parts are made from.
If you have a question about our products, please email us at sales@outlaweyewear.com, or call us at (949) 427-1-SUN.
All OutLaw Eyewear Aluminum Sunglasses come with an automatic 2-year warranty against Manufacturer's Defects on the frame, and as of 4/11/2022, it is extendable to 10 years. Lenses are not covered by any warranty, but if you have the new 10 year warranty, standard lenses can be replaced for $39. If you do not have this warranty coverage, replacement lenses are available at a very reasonable cost. Lens problems rarely happen as we use thicker lenses than our competitors, but damage can occur.
For frame warranty service, we will repair or replace the frame at our option in a timely manner.
Damage due to sunscreen, alcohol, military use, war, acts of god, or disasters is not covered under the standard warranty. A separate warranty is available for military or industrial use.
If your sunglasses are out of warranty, please contact us anyway as we can often help. We do our best to support our loyal customers for life. A repair or trade-up will be available so you can use your sunglasses for as long as you like.
Often time we can send you a replacement part to take care of simple issues.
Please join the OutLaw Eyewear family today!