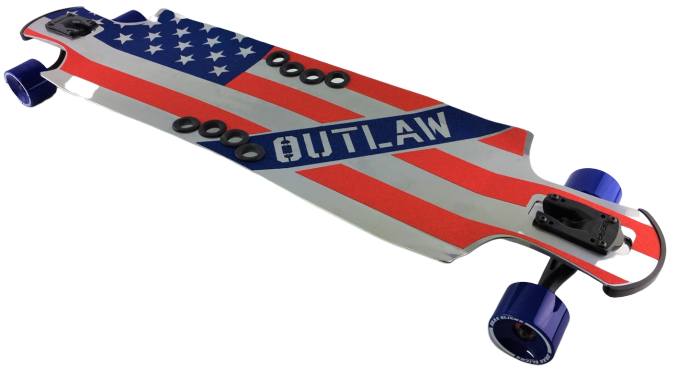 OutLaw American Flag Longboard Skateboard 42"
---
Regular price
$259.99
Sale price
$249.99
Save $10.00
/
In stock, ready to ship

Inventory on the way
Free domestic shipping on most orders!
Beercan Boards makes our OutLaw Flag Patriot Edition 42" DTP Oat Soda longboard skateboard. It is custom made for OutLaw's particular customers that demand American made quality and high performance that just can't be made anywhere else.
This is not your ordinary skateboard. It is constructed out of Aluminum from recycled beer cans. The grip tape design is laser cut to our proprietary design. We increased the length from a typical 35" to 42" makes this big brother built for speed, and a wonder to look at. The long, slender body cuts down air resistance, earning its spot as not only Beercan Board's longest board, but also the fastest. Unlike its wooden ancestors, the Oat Soda's board shape and aluminum construct make it easy to maneuver and nearly impossible to destroy!
Riding Styles
Cruising: The deck is great for pushing around parking lots

Freeride: The platform drop on the deck helps hold your feet in position on stand-up slides, and twisty runs.

Downhill: This stiff deck is ready to take on the hills, and the longer deck really boosts the speed
Features
Bear Trucks- We use only the best trucks, for optimum maneuverability, safety, and style.

Abec 9 Bearings- We use only the best bearings in the construction of our boards so that riders are confident in the safety and durability of their board.

Finger Grommets- Our unique finger grommet allow riders to enjoy an easy and comfortable method of transporting their board.

"Bottle Caps"- End caps made from recycled plastic, these nose guards protect you, the board and the planet.

Die Cut Grip Tape- Taking design to an efficient level, we cut custom designs out of our grip tape so that you don't have sacrifice safety for style.

Durable Powder Coat Finish- Because we always want our boards looking good.
This Assembled Set Includes:
Beercan Boards Oat Soda DTP Deck

Bear Trucks

Abec 9 Bearings

Beercan Board Signature Wheels

Die Cut Grip Tape

Recycled Plastic "Bottle Cap" Edges
Warranty
Thank you for shopping with OutLaw Eyewear Inc. We are confident that we offer the finest sunglasses available today. Our Aluminum sunglasses are cranked out of the same aluminum alloys that motorcycle parts are made from.
If you have a question about our products, please email us at sales@outlaweyewear.com, or call us at (949) 427-1-SUN.
All OutLaw Eyewear Aluminum Sunglasses come with an automatic 2-year warranty against Manufacturer's Defects on the frame, and as of 4/11/2022, it is extendable to 10 years. Lenses are not covered by any warranty, but if you have the new 10 year warranty, standard lenses can be replaced for $39. If you do not have this warranty coverage, replacement lenses are available at a very reasonable cost. Lens problems rarely happen as we use thicker lenses than our competitors, but damage can occur.
For frame warranty service, we will repair or replace the frame at our option in a timely manner.
Damage due to sunscreen, alcohol, military use, war, acts of god, or disasters is not covered under the standard warranty. A separate warranty is available for military or industrial use.
If your sunglasses are out of warranty, please contact us anyway as we can often help. We do our best to support our loyal customers for life. A repair or trade-up will be available so you can use your sunglasses for as long as you like.
Often time we can send you a replacement part to take care of simple issues.
Please join the OutLaw Eyewear family today!