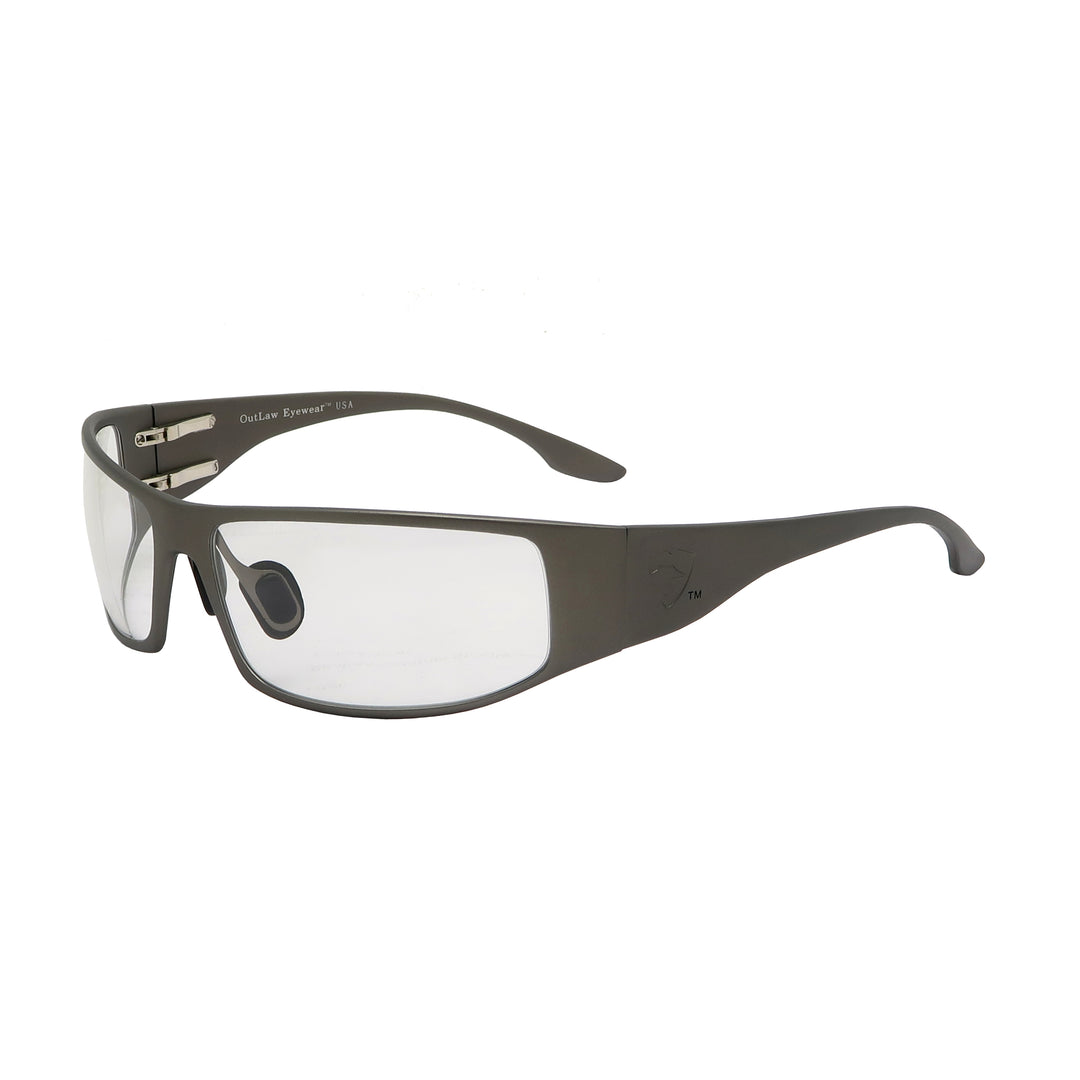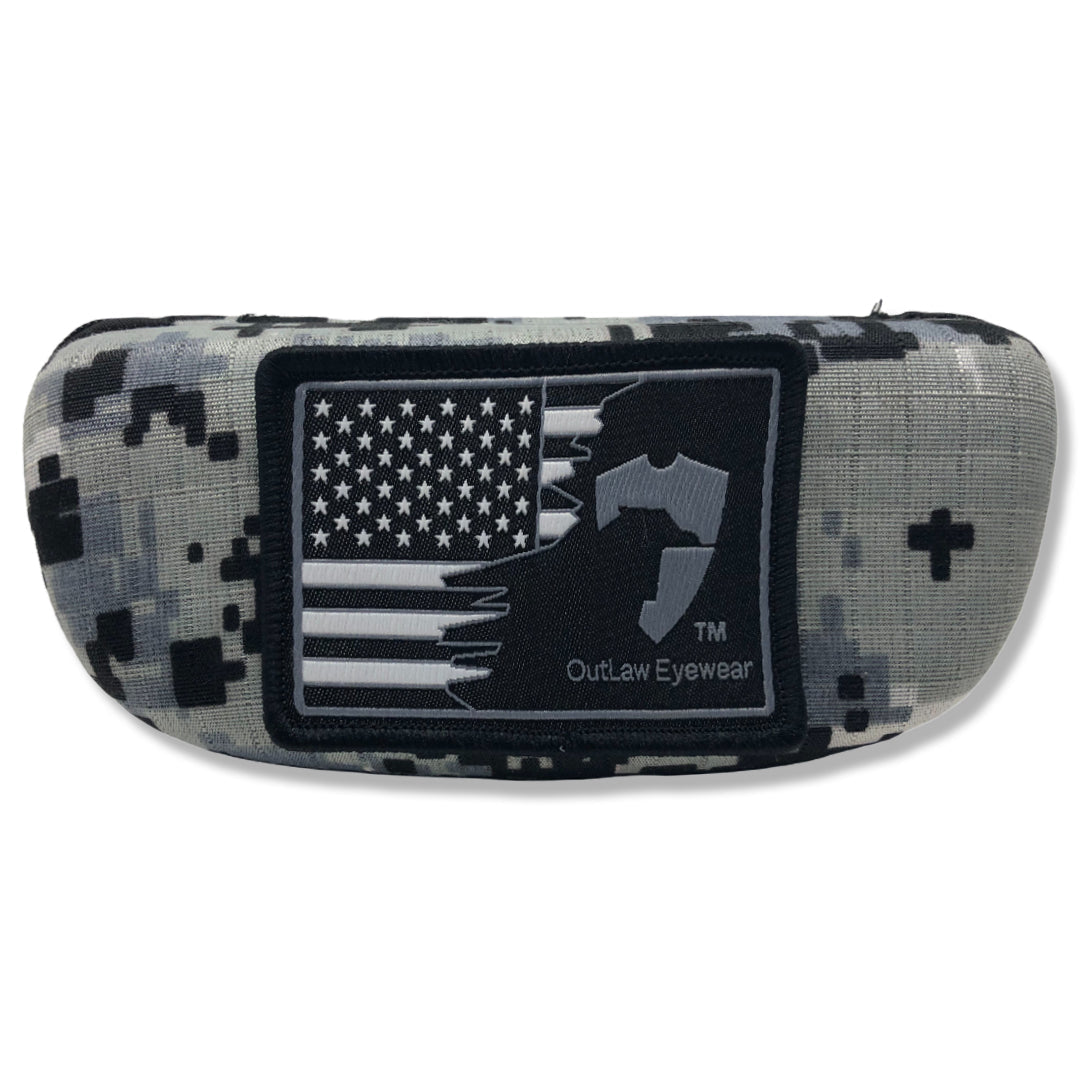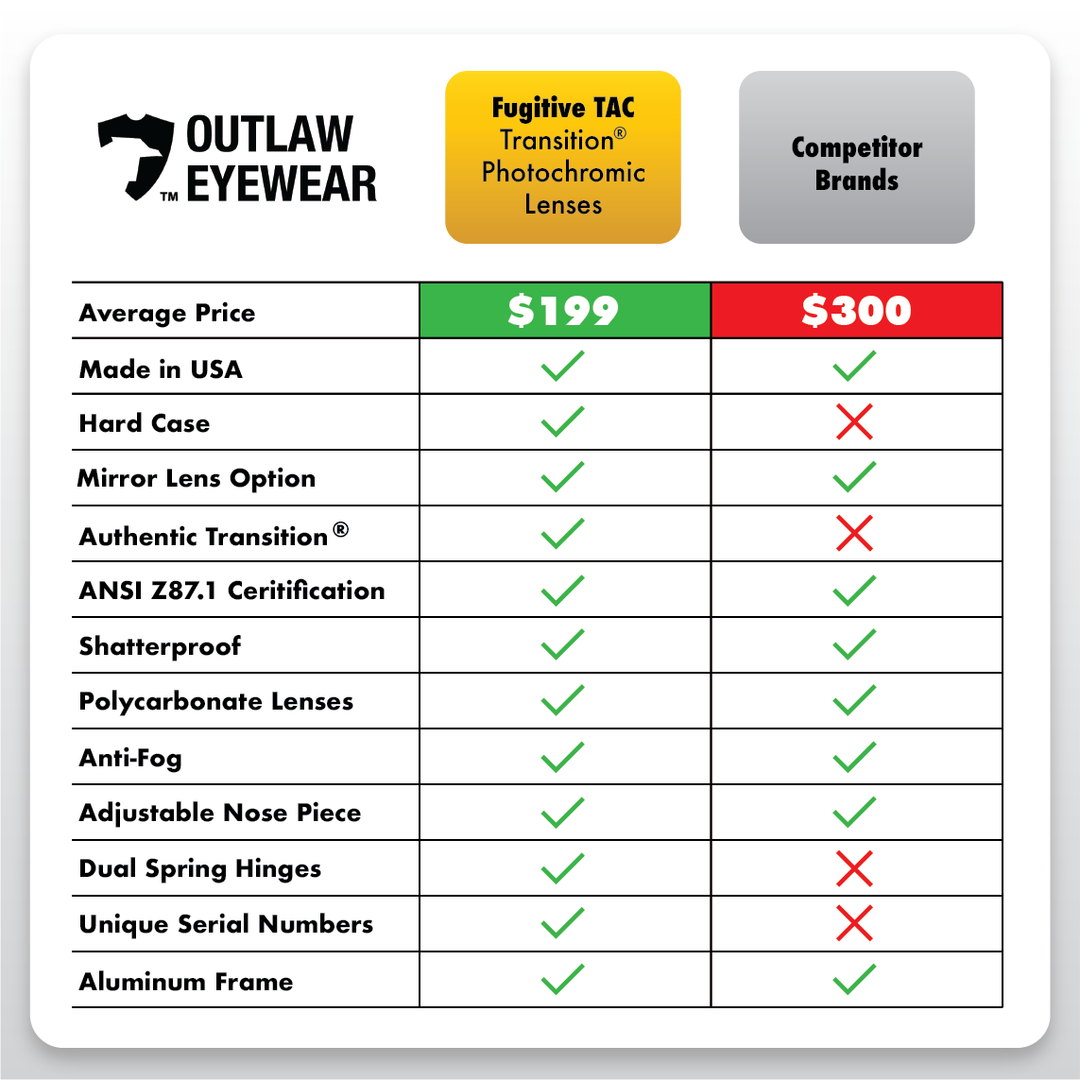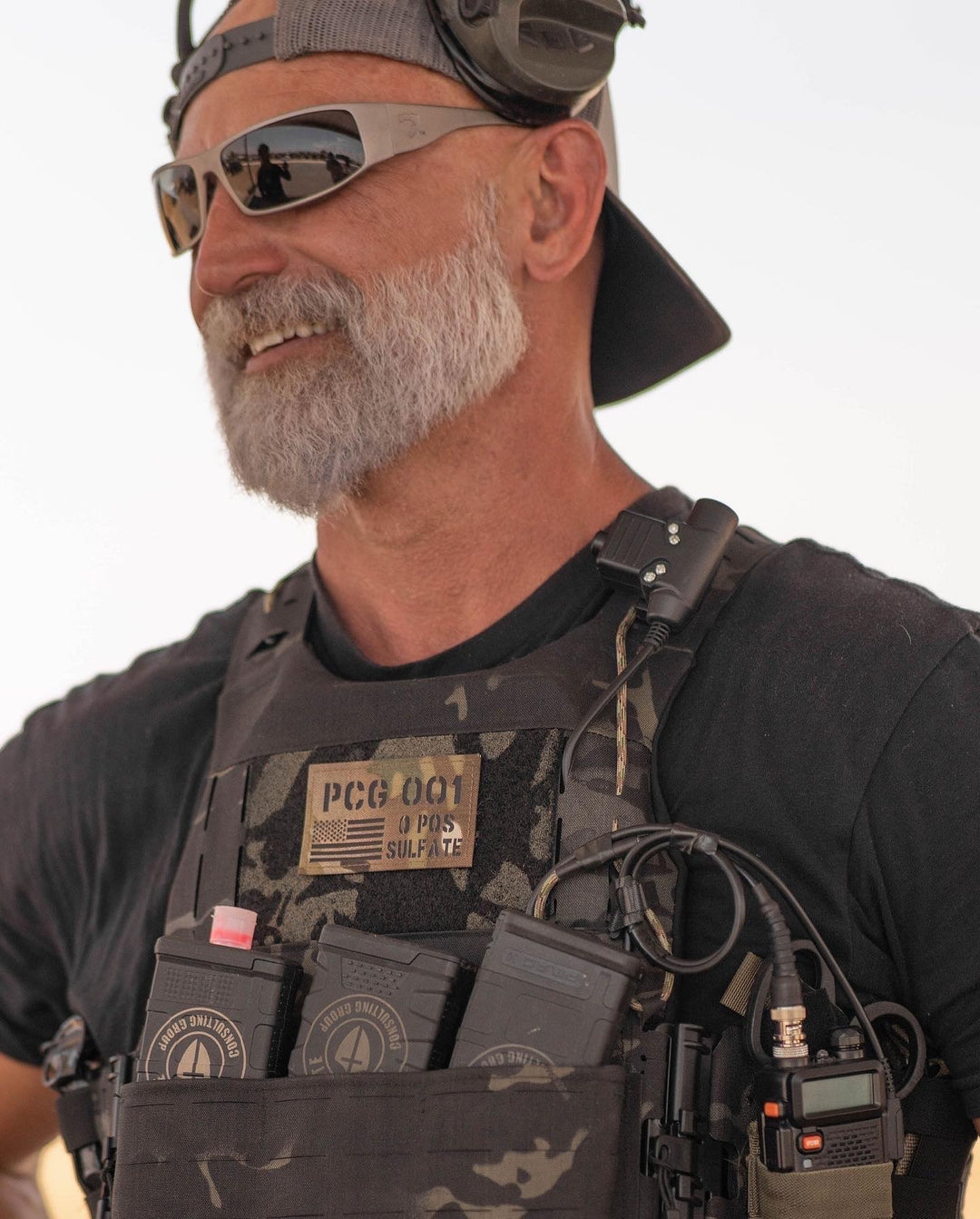 Fugitive TAC Nickel / Pathfinder 3.0 Transition - ANSI Z87.1-2015
---
Regular price
$179.99
Sale price
$99.99
Save $80.00
/
In stock, ready to ship

Inventory on the way
Free domestic shipping on most orders!
OutLaw Eyewear Nickel Fugitive TAC Transition Photochromatic Lenses

This LIMITED EDITION Nickel OutLaw Eyewear Fugitive TAC Version 2.5 is a High Performance Military and Motorcycle Sunglass. MoLLE Case included! New Nickel finish provides an extra metallic look on the frame color. The Aluminum Frame Construction and Shatter Resistant 2.0mm thick 100% UV Blocking Polycarbonate lenses ensure that these sunglasses are built Rock Solid to protect you against anything you encounter. The Intense Squarish lens shape is modern, yet extremely protective of Wind, Dust, and the Sun. Dual Hinges to keep it all together.

Meets ANSI Z87.1-2015 for High Velocity Impact Protection

Wind Protection-High

Size-Fits Small, Medium, and Large Men. The entire frame is adjustable for a Precision Tuned Fit.

Ability to see eyes through lenses-Partial based on how dark the lenses have Transitioned in the sun

Warranty- 2 Years on the Frame

Includes Soft cleaning cloth/bag and Hard Case

This sunglass has Transition da/night, indoor/outdoor lenses for use around the clock in all lighting conditions and environments.



All OutLaw Eyewear Fugitive TAC sunglasses come with a 2-Year standard frame warranty.

To extend your frame warranty to ten years & to qualify for $39 standard lens replacements, enroll your unique Fugitive TAC glasses.

Only glasses purchased after March 22, 2022 qualify. See details in the Warranty Section. If you need service on sunglasses purchased before this date, please contact Outlaw Eyewear customer support. Prescription lenses come with an optional warranty that is separate from this plan.
Warranty
Thank you for shopping with OutLaw Eyewear Inc. We are confident that we offer the finest sunglasses available today. Our Aluminum sunglasses are cranked out of the same aluminum alloys that motorcycle parts are made from.
If you have a question about our products, please email us at sales@outlaweyewear.com, or call us at (949) 427-1-SUN.
All OutLaw Eyewear Aluminum Sunglasses come with an automatic 2-year warranty against Manufacturer's Defects on the frame, and as of 4/11/2022, it is extendable to 10 years. Lenses are not covered by any warranty, but if you have the new 10 year warranty, standard lenses can be replaced for $39. If you do not have this warranty coverage, replacement lenses are available at a very reasonable cost. Lens problems rarely happen as we use thicker lenses than our competitors, but damage can occur.
For frame warranty service, we will repair or replace the frame at our option in a timely manner.
Damage due to sunscreen, alcohol, military use, war, acts of god, or disasters is not covered under the standard warranty. A separate warranty is available for military or industrial use.
If your sunglasses are out of warranty, please contact us anyway as we can often help. We do our best to support our loyal customers for life. A repair or trade-up will be available so you can use your sunglasses for as long as you like.
Often time we can send you a replacement part to take care of simple issues.
Please join the OutLaw Eyewear family today!